Folks who collected baseball/hockey cards 15-20 years ago remember the O-Pee-Chee brand. They were Topps clones released "exclusively" in Canada (but always somehow found their way to my local hobby shop... hmmmm).
I don't quite remember Cecil's time with the Jays, but due to the lack of "action" shots on his cards between the years 1986 and 1989, I assume he wasn't getting much playing time.
You either loved the wood borders or hated them. There was no in-between!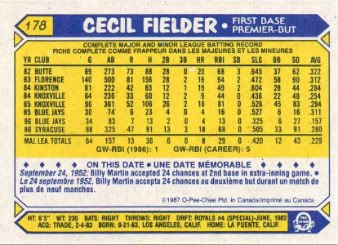 The card stock of the OPC was a little crisper than it's Topps counterpart. Also, these cards were bi-lingual (Any French Candians in the house??!!).