This is Cecil's only non-posed rookie card. Leaf/Donruss (at the time) went out of there way to catch the future Big Daddy in some game-action. Not the worst Donruss design of the 80s but certainly not the best (1987). I dare you not to like the powder blue backs! What made these mid-80s cards stand out from Topps and Fleer was the inclusion of a players middle name on the back (I clearly remember "Louis Rodman Whitaker", as if that name could get any cooler).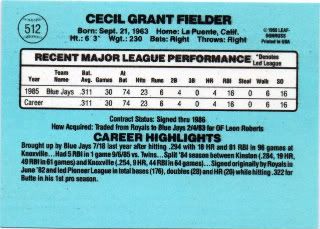 What you might of not known is...
That Cecil was drafted by the Royals in 1982 then promptly traded to the Jays the following year.